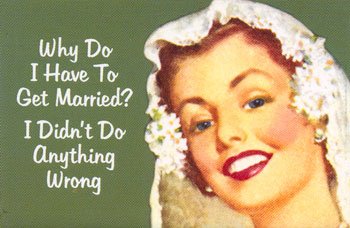 Yesterday a woman I have loved for forever and a day posted a really sweet status update to her Facebook page noting that exactly five years ago she met her now-husband on a backpacking trip.  I remember hearing all about him and how excited she was to have met him.  I remember the call she placed to him after we attended our twenty-year high school class reunion together just a few months later.  She was tipsy and their conversation was startlingly mushy.
My friend and her husband seem well-suited to one another.  They have shared values and goals and they have already built a life together that includes two adorable little girls.  That's all good.
What ruffled me was not the celebration of her having found love five years ago, it was the inclusion of this bit of advice:
The woods is the best hangout for meeting awesome guys. To all my single gal pals, strap on those boots and hit the trail.
I couldn't help but reply:
Stop! You're scaring me! I wanna 'strap on' my boots without the fear of impending marriage! (Love you like crazy, girl & so glad you found one another on that special trip…)
Many of us spend our childhood and youth dreaming of happily-ever-after, of Will and Kate's fairy tale wedding, and the sweet, syrupy ever-after that follows.  How often does it really come out like that?  If we knew what we were in for, would we still partake?  (Me: Decidedly no.)
Marriage is on the way out.  Just last week there was a piece on the Huffington Post which pointed me to an AOL piece. (I hate you, Arianna Huffington, for marrying AOL.  Now there's a gal who should have stayed single.)  For the first time in American history, married Americans are a minority.  They are the freaks, man! (Well, not really.)
Why is it that so many people, like my girlfriend, still assume that a single gal pal's deepest wish is to meet some awesome guy?  If we aren't married it is either because no one would marry us or because we haven't found a suitable match. I'm here to say that some of us aren't married because we simply don't want to be.  Marriage is not for everyone.  Come with me on this one, people:  SHIFT THAT PARADIGM!  It's time.
I know I have posted this before, but I'm sharing it once more as a pep talk for all the single ladies (and men) in the house: